It's a competitive world with new technologies and advancements. Everyone is trying to be in their top game. So is AgileBio…..! We finally announce the launch of our LIMS solution LabCollector v6.0! Especially in the times of the pandemic that has struck us, LabCollector offers an effortless lab management experience. You can store your data, manage your experiments, perform tests (like COVID detection) and do much more with LabCollector LIMS software.
---
---
Lab inventory management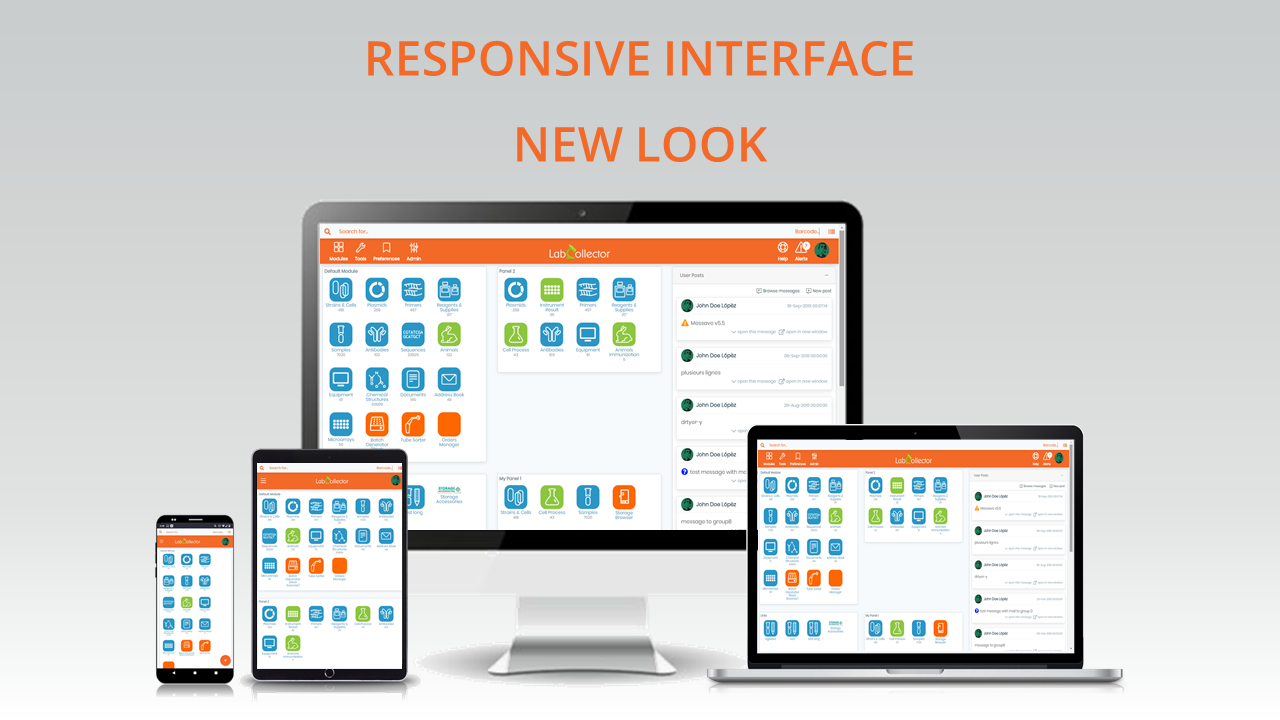 Version 6.0…What's new?
Let it be a laptop, computer, or be software…Stylish is the new normal! We are happy to introduce our LabCollector v6.0 with a responsive interface and refashioned design and refreshed stylish look in over a decade. Are you a researcher? I bet you would love to see an attractive user interface on any software. LabCollector v6.0 for sure is now easy on the eyes!
Good things come to those who wait… and the wait was worth it!
What makes the new LabCollector v6.0 so special?
We all know the struggle of webpages not adjusting on different sizes of screens or mobile. The new trend is easy on the eyes….easy on the mind!
This is exactly what our new version 6.0 offers. A new revamped interface with responsive design makes LabCollector the ultimate LIMS for labs!
Let it be your laptop, computer or your phone LabCollecter v6.0 is now OMNIPRESENT with a revamped design and responsive screen. Responsive LabCollector design makes web pages render well on a variety of devices and window or screen size. its the need of the hour after all….LabCollector v6.0 is compatible with all types of screens.
What's in it for you?
Just the NEW LOOK was not enough for us! We wanted to make sure that we make your experience with LabCollector more adaptive & memorable. Our teams have developed various new features that will allow LabCollector to adapt to your lab needs much more swiftly. You can now save your "searches" and memorize them & use it later. Moreover, so let's look at the highlights of some new features.
Improved security
If you are a researcher from academia, pharmaceutical, or a biotech company, I am sure you are worried about your important files and folders being accessible to others. For exactly this reason LabCollector v6.0 now makes sure that no one can tamper with your documents or data anymore. You no more have to worry about your research data getting leaked. We provide reinforced security with:
Better Configuration
Do you like customizable configuration settings on your phone, computer, or laptop? As a researcher do you like organizing experiments or data the way you like? Of course, you do! Who doesn't like to customize things according to their choices? Now imagine this freedom for configuration to organize your lab! With LabCollector v6.0 you can:
New User & Groups features
Do you have different teams in the lab working on different projects? Don't you want the choice for different permissions levels for different groups in the lab? User settings are now made better and feasible in the new LabCollector v6.0.
Easy Purchase order Management
Do you want to purchase new reagents for your lab? Are you tired of the long purchase processes? Not to worry! LabCollector helps you to create purchase orders and buy reagents/supplies very easily. The purchase order management in LabCollector v6.0 offers you many new exciting features:
Lab Automation & New add-ons/utilities
File from lab instruments is often not easy to interpret. Therefore connecting lab instruments to LabCollector offers lab automation thereby also decreasing human errors. You can connect your lab instruments to LabCollector with a help of add-ons and middleware that helps interpret the complex result files from instruments and integrates them in LabCollector.
Effortless Storage Organization
Are your reagent stocks running low? Not sure which reagent quantity has reached its minimum or maximum level? Every lab uses 1000's of reagents and supplies and keeping track of their usage is not an easy task to achieve. Nothing to fear when LabCollector is here. LabCollector v6.0 allows you to have top-notch storage management. You can now:-
New LabCollector v6.0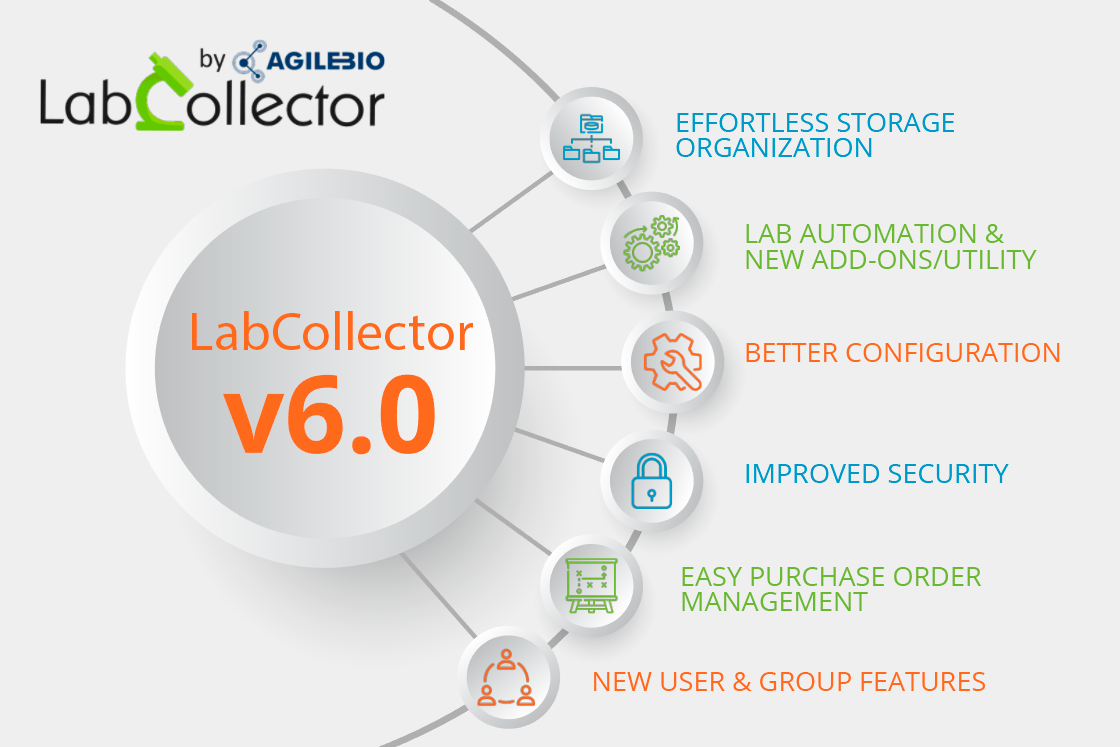 These are just some of the new features that you get with LabCollector v6.0.
Above all this, we are launching various other new and exciting elements. So stay tuned to LabCollector for more news.
Try our LabCollector v6.0 today!
To help set up LabCollector v6.0 please refer to our
Manuals
and our
Knowledgebase
. Find out more about changelog of LabCollector
here
.
Image/Graphics Credits: – Icons from www.flaticon.com – Graphics from https://fr.freepik.com/