Every laboratory manages batches of samples and tubes daily, considering naming, coding, storage, and placing them. LabCollector makes batch sampling easier by integrating hardware/software for scanning.
Working with different equipment such as scanners and readers, LabCollector allows lab staff to scan and catalog samples. Laboratories use it to import storage data (sample name, tube position, and rack ID) from a 1D/2D single barcoded tube and/or 1D/2D barcoded batch of tubes stored in racks/boxes.
Why is it a must-have in a lab?
Many laboratories that work with constant testing face the problem of batch sampling. Hundreds and thousands of samples must be scanned and managed quickly without any errors. Labs for biobanking, COVID-19, and genomic testing, laboratories that use PCR testing, and others face this in their day-to-day job.
Combining rack scanners (hardware) in a lab with LabCollector (software) allows you to get information sorted and easily accessible in a matter of seconds.
The purpose of rack scanners is to scan sample batches. The purpose of Labcollector is to increase productivity and decrease data entry errors. The purpose of combining a rack scanner with a Labcollector is to get all the data scanned, organised, and managed.
LabCollector offers the "Sample to Box" free add-on, "Batch Generator" tool and "Sample Receiving & Plating" add-on, that work with rack scanners to import storage tube data (sample name, tube position, and rack ID), save time, and reduce entry errors.
---

1st way
Upload a new box (could be already in your storage system of LabCollector; a new standard one or it could be a completely individual one). Choose filling orientation and let LabCollector take care of your batches.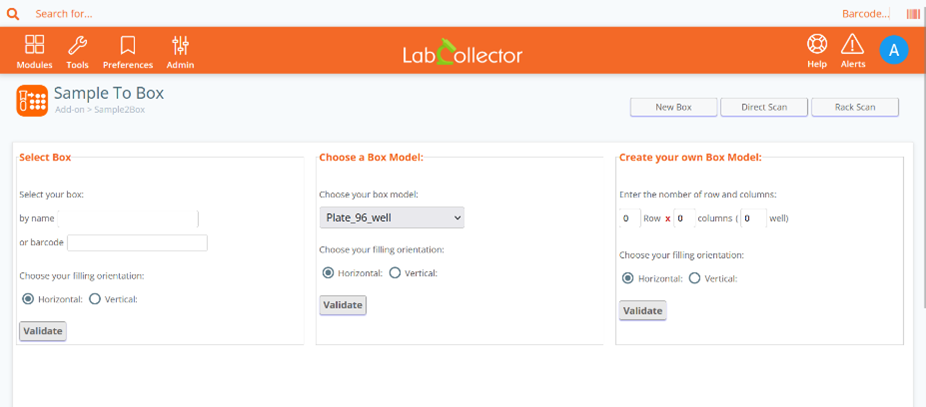 2nd way
Make a direct scan of the sample or box label. Don't forget to choose autosave or not.
3rd way
The rack scan option allows you to choose a rack scanner in your lab and scan a batch of samples within seconds.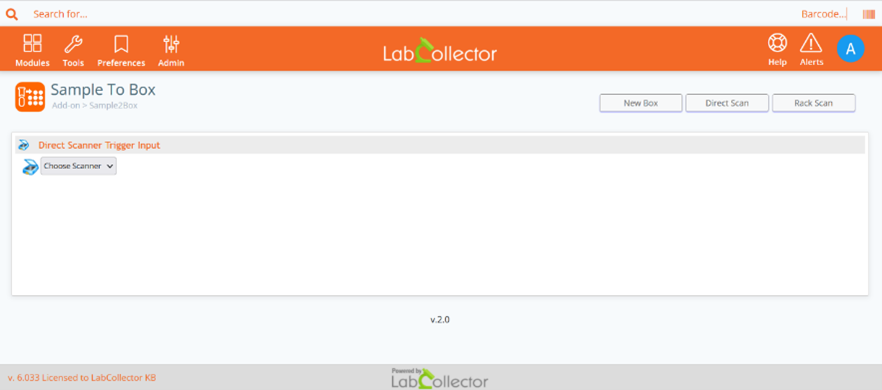 ---

The Batch Generator (Rack Scanner) is compatible with most scanners on the market, like Micronic, FluidX, BioMicroLab, Thermo, Ziath, etc. If a laboratory is using another scanner brand, it can be added to the list.
This tool is very useful for managing vast quantities of daily samples and is ideal for ensuring efficient sample tracking in the lab. It can be used in conjunction with the Tube sorter add-on for a better automation process.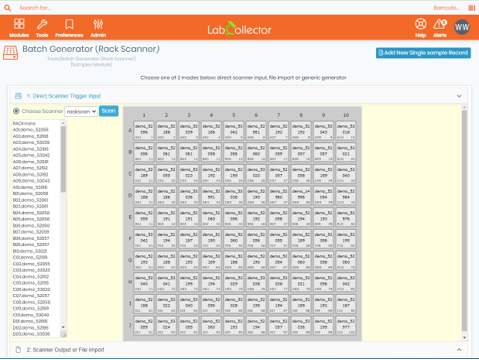 ---

The Sample Receiving add-on manages the receiving of a batch of samples and their transfer from packages to plates. It helps in creating records, managing storage, Quality Control check, and connecting samples to Lab Services Management and Workflow Manager add-ons. An automatic error message will appear to indicate if a sample has already been recorded/checked. After completing the plate, validation is required to allow the Quality Control check-up.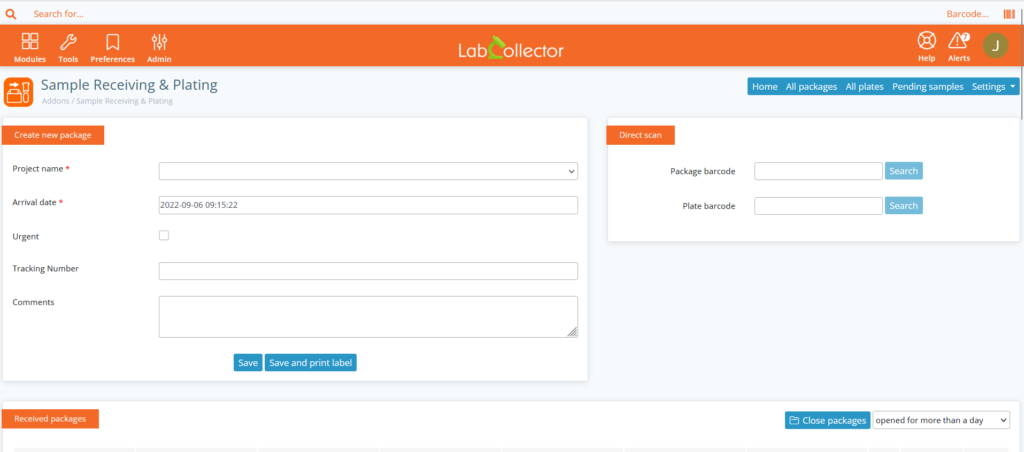 ---
How does it work?
LabCollector sends the command to the rack scanner, and it processes a scan of the batch. The information about the batch scanned by the rack scanner goes to the scan server who sends it to LabCollector. All this process happens within seconds. The software decodes, organises, and stores data obtained from a rack scanner.
The rack scanner reads SBS format rack barcodes and 2D barcoded samples. Tubes do not need to be removed from the rack to be scanned! The LabCollector scan server uses a TCP/IP server that can send results over a local/remote network.
The data is organized and stored in one of the add-ons of your choice, presented before. It speeds up the process of transformation of data and excludes human errors.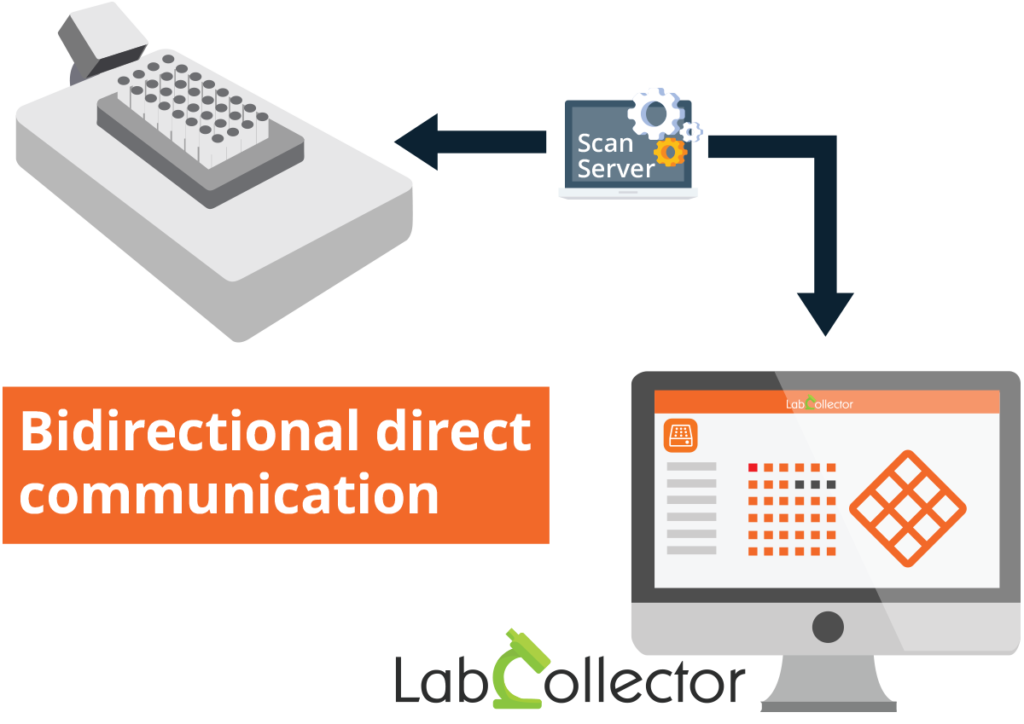 Who is already using these add-ons with LabCollector?
These tools are popular within the industry of biobanking, testing, and analysis labs. Looking for a solution to code, manage, and store hundreds and thousands of samples? LabCollector is here to provide a solution for quick, no errors, and comfortable batch sampling.
Some examples of the customers all around the world who already use rack scanners with LabCollector:

Future Today
Nowadays, Automated Storage and Retrieval System (AS/RS) is getting increasingly common. It is a combination of equipment and controls that manage, store, and retrieve materials as needed with precision, accuracy, and speed under a defined degree of automation.
LabCollector combining with AS/RS system is creating a fully automated process. No need in remembering or writing down where is your samples. Simply take a sample and leave it to the software to do the rest.
---
Conclusion
Integration between hardware and software is a big part of successful workflow. LabCollector is a solution for this matter and gives laboratories all around the world the best! Use LabCollector with equipment in your lab to create a full ecosystem.
Enjoy how easy is to manage batch sampling with LabCollector!