Do you have a question…
In a laboratory, it is often necessary to search for information, data, results that we would have written in our laboratory notebook or in a document on our computer. This mission is often complex, long and time consuming. By using a LIMS, all the data is centralized in one place and thus makes it easier to find certain information. However, even if the data is correctly classified and easily accessible, the search can sometimes be complicated if you don't know where to look.
Thus, in a perspective of continuous improvement of the user experience and specially to make this thankless and time-consuming task easier and faster, a new add-on for LabCollector has been developed. This add-on, named Advanced Search Manager, allows the use of Elasticsearch to find data and information in all types of sources within LabCollector.
What is Elasticsearch?
Elasticsearch is a real search engine! Its goal is to centralize all the data and to ensure an ultra-fast search but above all an increased relevance of the results provided. Data search becomes child's play!
Whether your data is structured or unstructured, it is possible to launch several types of searches thanks to a multitude of search criteria association possibilities. Thanks to Elasticsearch, it is possible to search for all types of data, numerical, textual, geographic data, etc.
The data are regularly indexed by Elasticsearch in order to find the right information at the right time. The indexing interval is configurable and allows to regularly update the modifications made, thus increasing the reliability and acuity of the searches.
---
Visit Elasticsearch website to learn more!
---
Advanced Search Manager and Elasticsearch
The Advanced Search Manager add-on has been developed in order to manage the connection of Elasticsearch within LabCollector. As explained previously, Elasticsearch performs a regular indexing of the data. It is thus possible thanks to the LabCollector add-on to manage the CRON indexing lists (command to an operating system or a server allowing the execution of a job at a precise moment) allowing to establish the frequency of the indexing task.
A. How to install Elasticsearch?
In order to guarantee the best solution, Elasticsearch can be installed in several possible ways:
Locally: on the client server directly
Remotely: on the client's server or on a server rented by the client
Directly on AgileBio servers
Elastic SaaS: possibility to use Elasticsearch cloud service but also Amazon Web Service.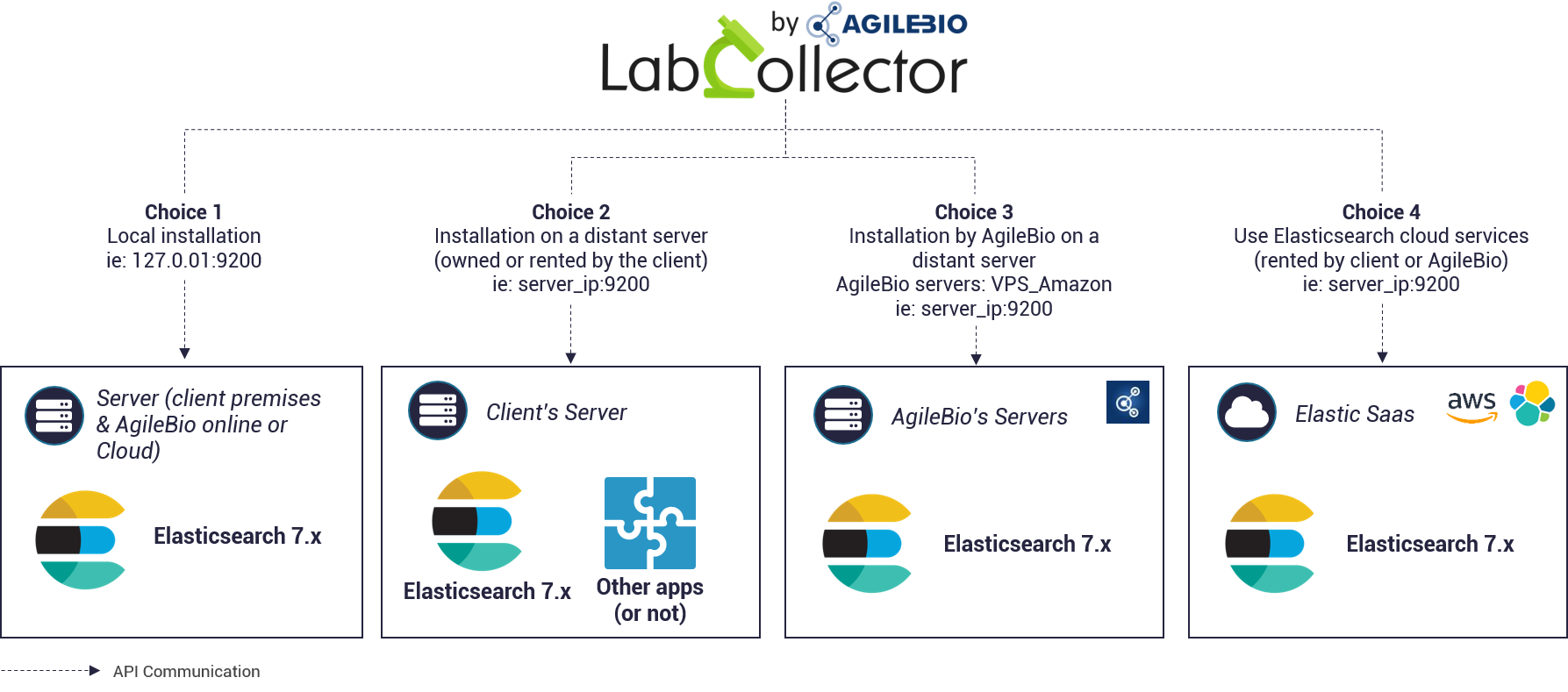 B. How to integrate Elasticsearch into LabCollector?
In order to allow the integration and use of Elasticsearch into LabCollector, it is necessary to use an intermediary to make the connection. An add-on called Advanced Search Manager has been developed to manage the connection between LabCollector and Elasticsearch.
The add-on is already available for download and can be installed on your LabCollector. The add-on, easy to install, allows you to manage the connection to Elasticsearch and the CRON indexing lists (Cron is a standard Unix utility that is used to schedule commands for automatic execution at specific intervals.) (see pictures below). In simple terms, this automatic indexing makes it possible to organize a set of documents and later facilitate the search for content in this indexed documents.
Read our Knowledge Base and follow the steps to install the add-on.


When your add-on is correctly installed, the connection with Elasticsearch is established and allows access to the advanced search within LabCollector and more precisely ELN (deployment on other add-ons and LabCollector to come).
---
Contact us to discuss about dedicated Elasticsearch service
---
Advanced Search and Electronic Lab Notebook
The implementation of Elasticsearch thanks to the Advanced Search Manager add-on includes several development phases. First, this advanced search solution was deployed within Electronic Lab Notebook.
As a reminder, ELN is an add-on allowing you to register, manage and save all your laboratory data, your experiments and your results. Acting like a real laboratory notebook but electronic, all the daily information is incorporated into it and therefore needs to be easily found.
Thanks to the new advanced search, it is now possible to find precise information of any kind, present in the add-on in an extremely fast time.
Many fields are available to make the search more precise and therefore more efficient. It is possible to search within the different levels of ELN (book, experiment, page). Other fields such as the name of the document, the name of the author or the tag filter allow you to refine your search and obtain results that precisely meet your requirements.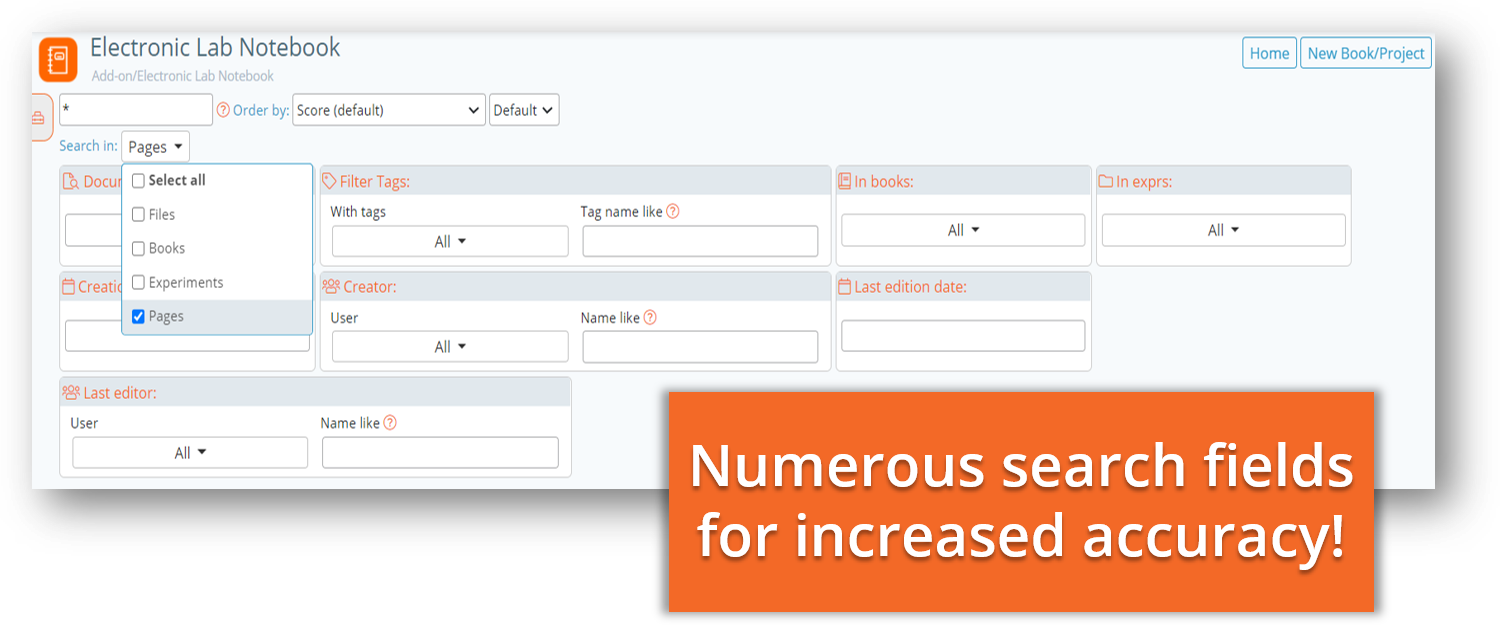 The results are presented as individual boxes containing the search item(s). Several pieces of information are also provided in order to easily find the source of the information such as the name of the book, the experience or the page.
A score is also assigned to each result. This score shows the relevance of the result. Before starting to score the documents, Elasticsearch first reduces the candidate documents by applying a Boolean test: does the document correspond to the request? True or False. Once the results that correspond to the request are retrieved, the score they receive will determine their ranking according to their relevance. The rating of a document is determined based on the results obtained in the fields of the query and any additional configuration applied to the search.

Another option is also available to manage the tags of several elements at the same time. A Toolbox allows you to select the desired results and add one or more tags to these pages. This option saves a considerable amount of time in tag management and adds an additional search criterion for future searches.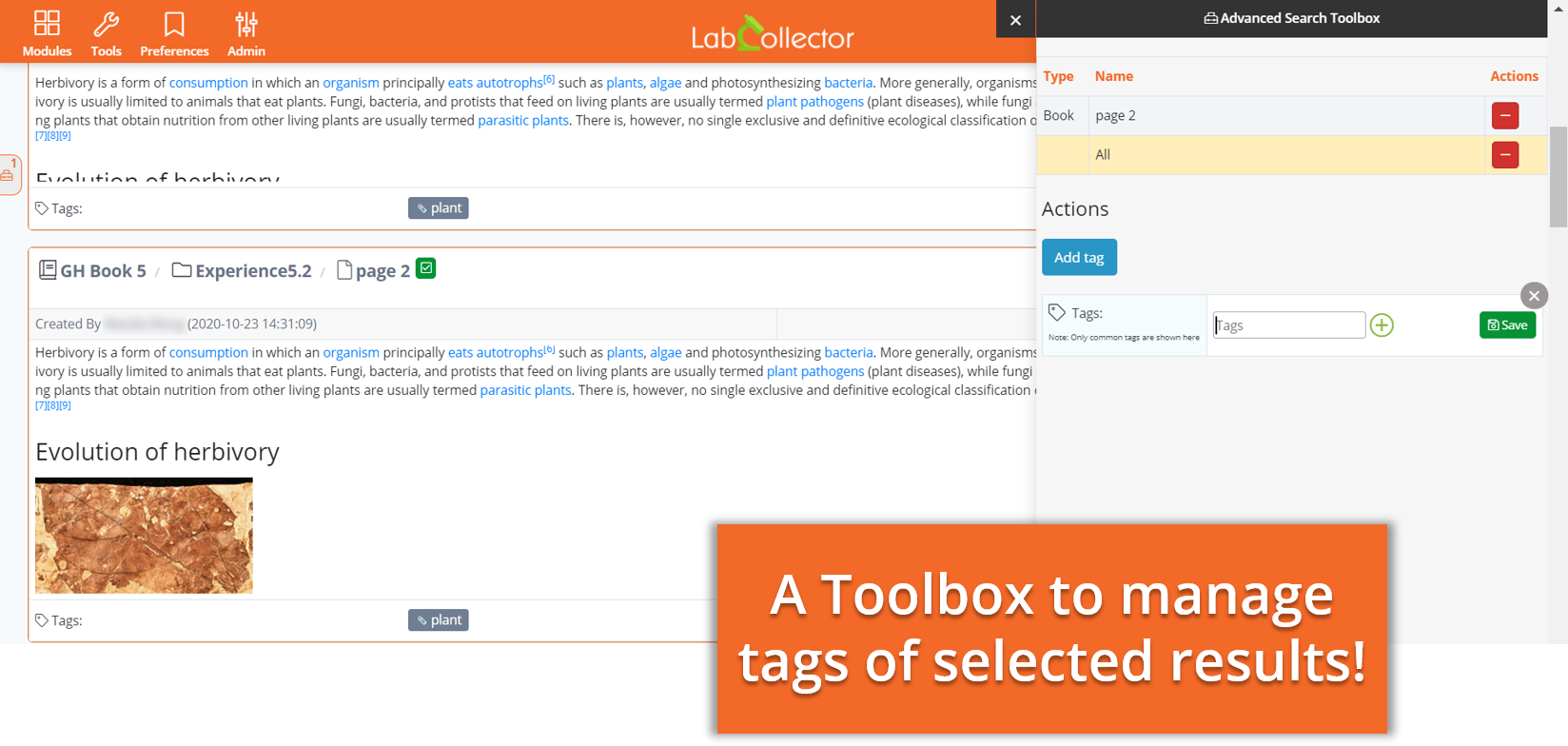 … Find the answer in no time!
This new Advanced Search Manager add-on is ideal for performing accurate, fast and data-intensive searches. You no longer have to search for minutes or even hours to find the information, graph or calculation you need, just ask for an answer!
This Advanced Search is currently available in ELN but will soon be available in other add-ons and on the whole LabCollector.
Search everything and everywhere thanks to Advanced Search Manager add-on!
---
To help set up LabCollector v6.02 please refer to our Manuals and our Knowledgebase.
---
Credit: Freepik