The new version 4.04 of LabCollector Lab Service Manager is now available. Many improvements have been added to LSM and LSMRemote! Discover now the main improvements!
LSM & LSMRemote Reminder
LabCollector Lab Service Manager (LSM) is the ideal add-on for testing laboratories that perform tests and analyses on a daily basis. It is a single application, which allows you to run a job with multiple tests and samples, generate reports for patients, clients, partners based on templates, invoices and much more. LSM also incorporates a powerful API technology, which allows it to connect to third-party remote applications and instruments.
A web portal, LSMRemote, is also available to completes the overall LSM offering, and facilitates exchanges between partners.
What's new in LSM v4.04?
LabSoft, the new medical platform
In order to guarantee a complete service to our LabCollector customers, we have already integrated several medical platforms. You can find our current integrations directly on our integrations page.
We are constantly diversifying our offer to satisfy all the needs of our customers. With this in mind, we have decided to integrate the LabSoft platform.
Since 1992, LabSoft has provided the healthcare industry with some of the most innovative and powerful software solutions that have solved complex and demanding needs in many and differing segments of the industry. […] Providers can order lab tests in one order within his/her EMR and send them through the Internet directly to labs and while receiving results and reports back into their EMR, and all of this while talking with the patient in the exam room.

LabSoft
Disposal of Samples
Within your laboratory, certain rules apply to the disposal of samples. Biohazardous samples need to be disposed off carefully.
A new feature allows you to specify for each job, when it should be disposed off. A list will be created with all samples that need to be disposed.
Return of Samples
Rather than destroying the samples it may be necessary to send some samples to another laboratory, for example. This option is also available. When creating a job, you will be asked if the sample should be returned or not (if activated in the settings). Once the retention time is over, the concerned samples will be added in a list where you can manage their return.
Add a Result Uncertainty
As an analytical laboratory you certainly need to add an uncertainty to your results values. This is now possible in LabCollector LSM add-on! You can also add it using dynamic tags in your result report template.
When creating a test you can add a result parameter with an uncertainty that you define in your lab.
When this test is assigned to a job, you can select the appropriate uncertainty, and this will appear on the result report as value ± uncertainty.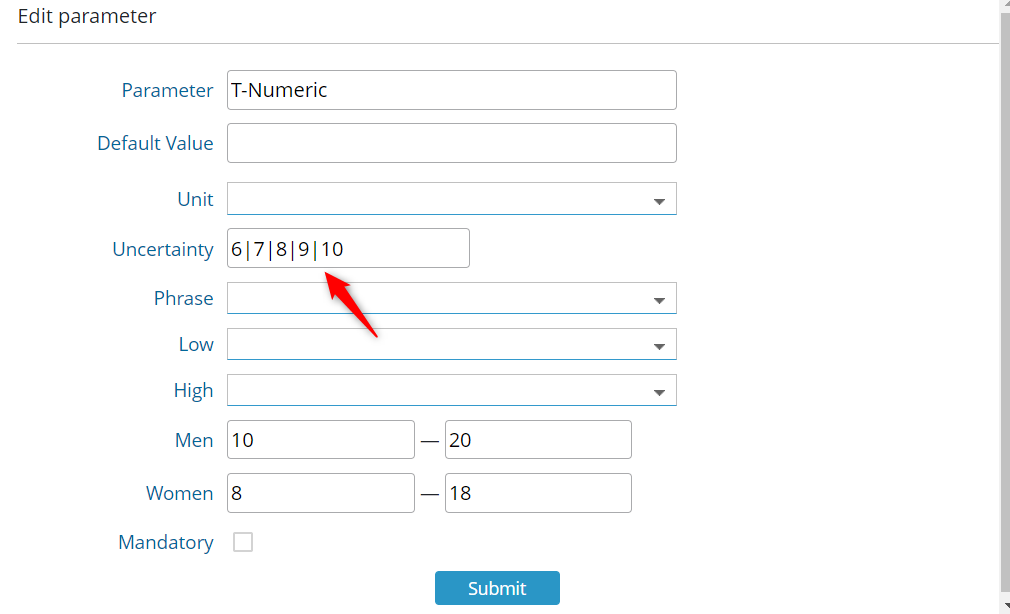 Numeric result & decimals conditions
Getting an accurate result often means adding a certain number of decimal places which are sometimes needed or are not necessary at all. To make it easier to manage the display of results, a new option in the LabCollector LSM add-on allows you to add conditions on the number of decimals to be displayed or not.
For example, you can add conditions such as: if the result is higher than 10 mg/L then add 2 decimals / if the result is lower than 10 mg/L then add 1 decimal.
Your results will always be displayed with precision and regularity for a more accurate comparison.
Samples Stability Window
The stability of the samples for testing is essential and must always be controlled. In order to guarantee quality samples, a time limit can be imposed on each sample above which it will no longer be viable for testing. The new Stability Window feature allows you to define the time period during which the sample is viable. This delay can start from the date+time of collection, from the date only or from the time only. Once this time is exceeded, an alert will be visible on the concerned sample symbolized by an exclamation mark and the date and time fields will be highlighted.


LSMRemote & Bulk Label Printing
In order to save a considerable amount of time for all LSMRemote users, the option of bulk label printing has been added. This very useful option now allows you to print barcodes for different jobs at the same time with a few clicks. Activate the option in one click, select the jobs you want to print, and print! Nothing could be easier! This new feature can save you a lot of time and help you avoid errors, for an optimal tracking of your samples! Learn more.
The same option is also available for printing reports and CoCs!
You can learn more in our LabCollector LSM & LSMRemote Blog.
LSMRemote & configurable design options
You are using LSMRemote, and maybe you have integrated the portal on your website. You would like this portal to respect your graphic charter (colors, fonts), which is now possible. Indeed, as Super Admin, you can modify some parameters of LSMRemote thanks to the "config.ini" file. You can find the configurable options in our Knowledge Base.
New options are now available to adapt the colors and the font to your desires!
Font: you can choose the font from a predefined list
Primary button: you can change the color of "primary" buttons (Sign in, access with token …)
Secondary button: you can change the color of the secondary buttons (Register, Patient registration …)
Cancel button: you can change the color of the " cancel " buttons
With the palette provided you can choose the color your want. It's also possible to put an HTML color code directly (e.g. #F36927).
Many new features are released regularly!
You can find all these new features on our changelogs. If you have any questions or suggestions, do not hesitate to contact us via our contact form.