The long awaited new version is here! Get ready to improve your experience with LabCollector v6.11! You can store your data, manage your experiments, perform tests and do much more with LabCollector LIMS software.
What's new in this version?
Improved security
Using SMTP Oauth2 for Office365 and Gmail to comply with Microsoft and Gmail's secure SMTP integration requirements, we added the highly expected mode.
Integrating OAuth2 has several benefits:
it allows you to read a user's data from another application;
it supplies the authorization workflow for web, desktop applications, and mobile devices;
is a server-side web app that uses authorization code and does not interact with user credentials.
Check out our guides below ⬇️ on how to add this security to your instance.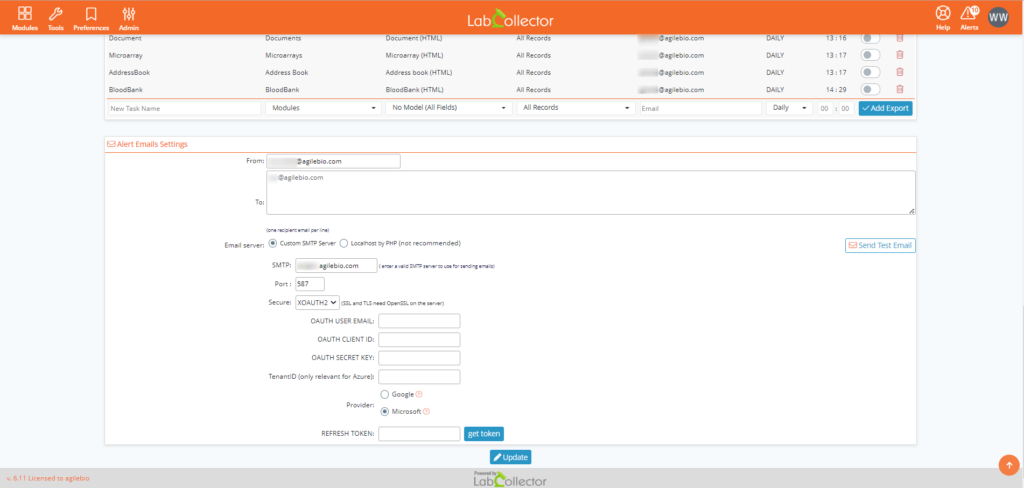 ---
Labels improvement, Risks & Safety icons
Now you can create barcode labels much faster, easier and more responsive. They will automatically adjust to the meanings that you add to your label.
We also added Risk & Safety icons to the label maker, which will allow you to have the corresponding pictograms on a label. This will help with the compliance of the lab and improve its safety.
---
We totally redesigned the Maintenance and Lots tabs with sorting, filtering and full support of dynamic multi-level custom fields.
Now you can have all the empty/not frequently used columns hidden. Click on a green circle, to extend and see more columns, and to return back click on a red circle. Sort columns by clicking on them and find needed equipment much faster. A search bar was added and the overall user experience was improved. Test it now!
---
Archive improved
While archiving projects is comfortable and useful, it was a problem to come back to them and find their code number. Well, not anymore! With this version, users can see and unarchive project codes that they need.
Find all of your archived projects and their codes easily, follow the next steps: Tools ➡️ Manage Project Codes ➡️ Archived Project List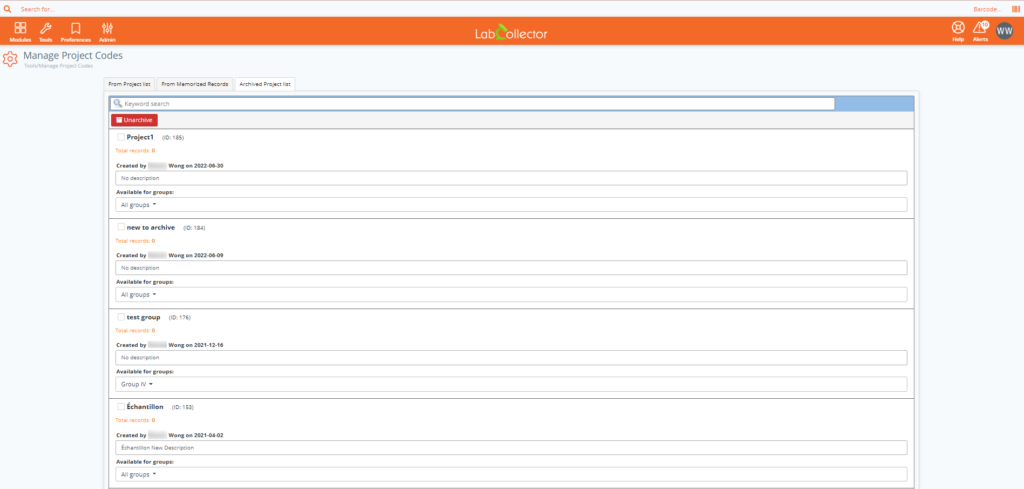 ---
Configuration of the user levels & admin access
Admin users can now have access to specific administrative areas chosen by Super Admin. This will help with managing LabCollector and your lab.
Configure the user levels that are allowed to delete records. Now have the option to decide who can do it and who can't, just remember that non-Admin users can only delete their own records.
Learn how to manage users in our Knowledge Base 📙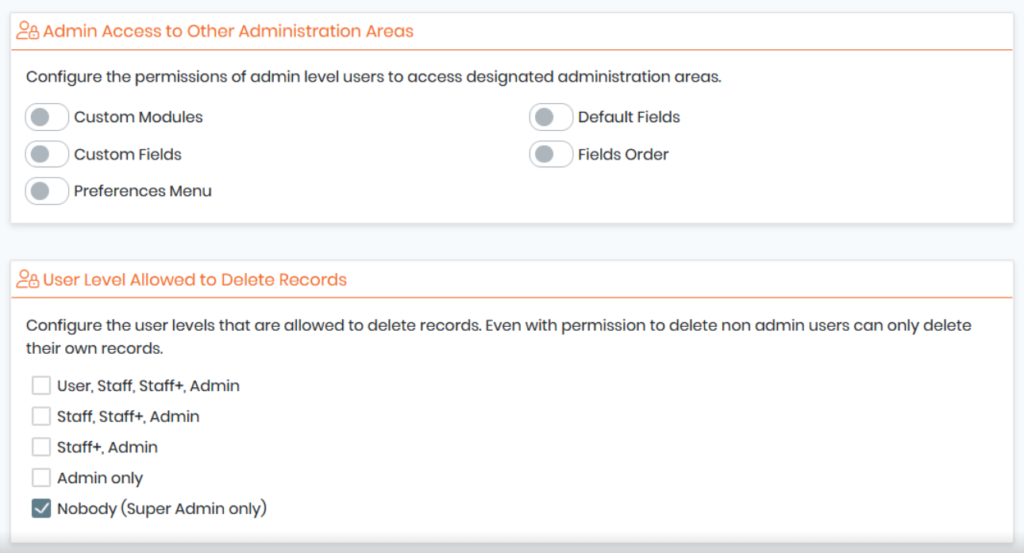 ---
Calculated fields
This field allows using a formula on a decimal and datetime field (and other calculated fields) to have an automatic result in view mode. Now supported in Maintenance, Registry Book, Risks and Lots Tabs, and allows performing needed calculations right in place.

---
Other updates
Timestamp certification by Time Stamp Authority
Name modification in the module form now displays a warning if the name is currently used in an autocomplete custom field
Mol/SDF formats are now validated in the import
Custom fields focus icons can now be enabled or disabled depending on the setup option
LSM tab in a Documents module to automatically get a hardcopy of reports for the finished job
fixed bugs
check our changelog for more information
---
And many more! We believe that with your feedback we grow even faster!
Download LabCollector v6.11 and enjoy!